Ditherington Flax Mill site: Demolition of former bus depot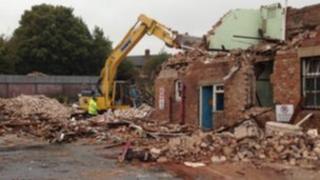 Work has begun on the demolition of a former bus depot in Shropshire.
The former Arriva and Midland Red garage in Ditherington is being demolished as part of the £30m redevelopment of the Flax Mill site.
Shropshire Council said the site will eventually provide space for "housing, retail, commercial activities".
Most of the rubble is expected to go to recycling projects rather than landfill. A £2.5m replacement depot opened in Battlefield in July.
Alan Mosley, Shropshire councillor for Castlefields and Ditherington and chairman of Friends of the Flaxmill Maltings, said that it will be a "great improvement" for the area.