Shropshire Sansaw 'super-farm' joins dairy industry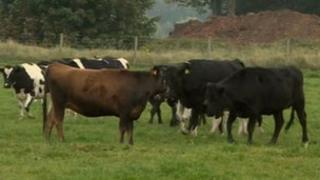 As hundreds of dairy farmers leave the industry every year, citing squeezed margins and falling milk prices, one farm is joining the marketplace in a big way.
The Sansaw estate near Hadnall, Shropshire, is investing £3m in cattle and infrastructure in what is very much a hard-headed "business decision".
Managing director James Thompson said: "Over the last three years we've been researching the system that will suit where we are and what is going to generate the best profit for us going forward over the next 25 years."
While the average UK dairy farm milks a herd of about 120 cattle, according to the Department for Environment Food and Rural Affairs (Defra), Sansaw is planning to manage a 1,200-head herd, in a bid to maximise profits.
The estate, however, which expects to start operating in February, has chosen not simply to scale up the typical UK dairy model, but has looked further afield for inspiration.
"We decided to use the New Zealand model and apply that to the United Kingdom, and Shropshire in particular, as we believe that's the system that will generate the best profit," Mr Thompson said.
The estate has even recruited an assistant farm manager, Matthew Bosh from New Zealand, as one of eight new jobs on the site.
'Volatile pricing'
At the heart of the system is allowing cows to graze on grass as far as possible, and that means choosing a breed that can thrive outside, even over the harsh winter months.
Mr Thompson said the 1,200-head herd would typically be managed in groups of 300 to 400, all coming into calf in the spring, in time for the rapid growth of grass.
The farm is also working closely with Harper Adams University College to research the benefits of keeping cows outside throughout the year.
Of the farm's 1,500 hectares (3,700 acres) a third is being given over to pasture, much of it already reseeded in time for next spring.
A further 200 hectares (500 acres) are being used to produce kale and beet to supplement its silage over winter.
"We were looking at a system that would produce milk at the lowest cost. Grass is the cheapest crop to grow to feed cattle on," Mr Thompson said.
"Milk is a commodity. Pricing will be volatile going forward and that has to be figured into any business plan.
"For us it's about the cost of production, not the milk price."
The farm has also chosen a New Zealand Friesian-Jersey cross, rather than the Holstein Friesian that is typically found on UK dairy farms.
While Holsteins tend to produce 8,000 to 10,000 litres of milk, each of the Sansaw herd is expected to yield about 4,500 litres a year.
Their milk boasts a higher fat and protein content which can be used for cheese, skimmed milk powder and other high-fat products.
'Opportunity for growth'
It means you are unlikely ever to pour Sansaw milk over your breakfast cereal, but for Mr Thompson that is a good thing.
"It is very much my personal opinion, but I think culturally in this country we're obsessed by big yields, partly because of the number of people we have means a high demand for liquid milk.
"The dairy industry in the UK is always going to be under pressure in the liquid market because supermarkets will use milk as a loss-leader.
"Farmers have to realise that in this country, but equally supermarkets need to realise if they want relatively cheap milk and they want a continuous supply of it, they're going to have to pay for it."
He added that while the UK market seemed focussed on "white water" liquid milk, there was a "huge opportunity for growth" for processed goods in global markets such as China and the Far East.
The National Farmers Union (NFU) is also very supportive. It said the industry had already evolved significantly over the last 20 years and would continue to do so.
James Mercer, from the organisation, said he believed the market would support a combination of large and small, family farms.