Ludlow College to merge with Herefordshire College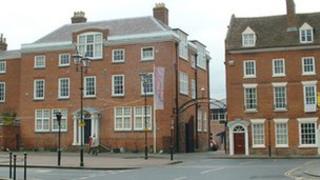 Ludlow College, one of the smallest sixth form colleges in England, is to merge with Herefordshire College of Technology, officials say.
It was the first college to tender for a partner after new legislation was introduced earlier this year.
The move has secured the future of the Shropshire college which currently teaches about 1,400 full and part-time students, a spokesman said.
Final approval for the merger will be made next year, the college said.
'Difficult to continue'
Three parties expressed an interest in the tendering process which started in June.
The college, which can trace its roots back almost 800 years, currently offers a range of A-levels, BTec and Foundation courses for post-16 and adult students.
"We are one of, if not the, smallest sixth form college in the country and it is hard to be sustainable on our own in the current climate," a spokesman said.
"It would have been very difficult to continue in the long term so this certainly secures the future of the college.
"There will be a series of meetings now with final approval made next year."
Ian Peake, principal of Herefordshire College of Technology, said: "This partnership is a very exciting development which will secure the long-term future of Ludlow College as a centre of excellence for learning."
The two colleges are 40km (25 miles) apart.