Shropshire doctors predict increase in A&E visits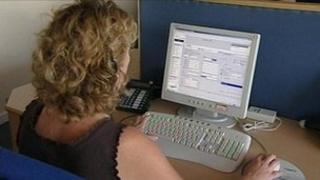 Plans to centralise out-of-hours medical services could increase pressure on A&E units, according to some Shropshire doctors.
A 111 non-emergency helpline is set to be introduced across England in April.
Chairman of the county's Shropdoc out-of-hours service Dr Russell Muirhead predicted the move would increase local workload.
Shropshire Clinical Commissioning Group (CCG) denied that more patients would be seen at A&E units under the plans.
Dr Karen Morton, from the CCG, said the new number would standardise the quality of service and provide a single phone number that could be dialled across the country.
Under the new system, calls will be handled by a regional centre in Birmingham, with non-clinical staff asking a detailed set of questions.
'Conservative system'
Dr Morton said patients would then be "signposted" to the most appropriate service, whether an emergency ambulance or minor treatment at a GP surgery.
Dr Muirhead claimed the new system, manned by non-clinical staff rather than a nurse or doctor used by the current Shropdoc service, would err on the side of caution.
"It is an algorithm, which is a one size fits all.
"The problem that we see at Shropdoc, because we think we will be busier than we are now, is that with all these algorithms you end up with quite a conservative system.
"We predict 999 and A&E rates will go up. The figures for the pilot sites are higher than you'd see in Shropshire at the moment."
Peter Corfield, Chairman of Ludlow Hospital's League of Friends, said he feared a "barrage of questions" posed by a call handler could confuse some elderly patients and that hospital A&E units would become a first, rather than last, resort.
Ms Morton said the CCG was working with the regional centre to integrate the existing Shropdoc service within the new system.
She added any call requiring advice on treatment would be immediately passed on to a clinician.