Ditherington Flax Mill site: Demolition work starts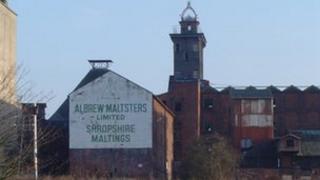 Work has started to demolish buildings around Shrewsbury's Ditherington Flax Mill as part of a multi-million pound regeneration scheme.
The Grade I-listed 18th Century building is believed to be the world's first iron-framed building and regarded as the forerunner to the skyscraper.
Plans for the flax mill include a combination of public access and commercial use.
Demolition of the Midland Red Social Cub is due to be completed by Friday.
The former Arriva bus depot is expected to be demolished next week. Its £2.5m replacement opened in Battlefield in July.
Shropshire councillor Mal Price said: "When we are successful in bringing the main flax mill buildings back into use, we hope that the remainder of the historic buildings on site and the surrounding land will be more attractive to potential investors."
Under the plans announced by English Heritage at the beginning of the year, three of the main historic buildings would be developed - the Main Mill, dating from 1797, along with the late 19th Century Kiln and the Dye and Stove House.
The project was awarded almost £500,000 by the Heritage Lottery Fund (HLF) in May to develop more detailed plans in a bid to secure £12.1m funding.
Chris Smith, from English Heritage, said the organisation had been working since 2005 to remove "obstacles to development of the site".
Alan Mosley, Chairman of the Friends of the Flaxmill Maltings has said redeveloping the site would have an "enormous regeneration impact" on the Ditherington area of Shrewsbury.