West Coast rail tender shambolic: Shropshire Business Partnership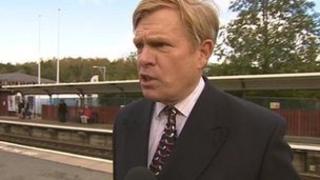 A business group which wants a direct rail link from Shropshire to London says it is amazed "at the shambolic handling of the tender" over the West Coast Main Line franchise.
The government has scrapped a decision to let FirstGroup take over the route from Virgin after "technical flaws" were found in the competition process.
FirstGroup had said it would seek to run a direct Shropshire link from 2016.
Shropshire Business Partnership said it hoped the link could still operate.
Nick Chavasse, chairman of the group, which has 300 members, said: "Our reaction really is twofold.
"Firstly, utter amazement at the shambolic handling of the tender and also it's sad that really we have an opportunity here to expand the infrastructure to get this railway to come through to Shropshire in a very easy manner.
Civil servants suspended
"I hope... that whoever wins the tender finally gets on and does it - the sooner the better."
Three Department for Transport civil servants have been suspended.
Transport Secretary Patrick McLoughlin said the mistakes in evaluating the relative merits of the four bids received to run the West Coast Main Line route had been made by Department for Transport staff.
FirstGroup had said it was seeking to introduce a number of new services including, from 2016, services from London to Telford Central and Shrewsbury.
A previous direct rail service from Shropshire to the capital, run by the Wrexham, Shropshire and Marylebone Railway, stopped operating in January 2011.
The Shropshire Business Partnership is a network for professional and business services companies in the county run by its members.