Shrewsbury's St Chad's to get crypt under £2.5m revamp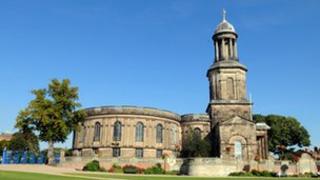 Plans have been revealed to build a crypt below a Grade I-listed Shropshire church as part of restoration work.
Staff at St Chad's Church in Shrewsbury said the construction would help expand the facilities and create a visitor centre.
Repairs worth £2.5m on the building's stonework and nave started last year.
Development director David Tudor said: "We can't spoil the outside appearance of the church so one way of achieving that will be to go underground."
He explained work was expected to be completed by the end of 2014.
The campaign to raise £2.5m to begin restoration work was launched in 2010.