Shropshire soldier Lance Cpl Jones awarded Military Cross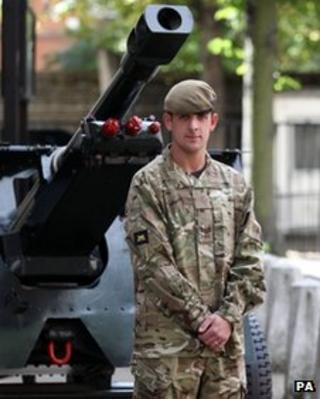 A soldier who led a bayonet charge across 80m (260ft) of open ground through Taliban gunfire in Afghanistan has been given the Military Cross.
Lance Corporal Sean Jones, 25, of 1st Battalion The Princess of Wales's Regiment, and his patrol were ambushed in Kakaran village, Helmand.
L/Cpl Jones, of Market Drayton, "reversed a potentially dire situation" in October 2011.
The patrol was trying to draw out insurgents laying homemade bombs.
As they moved through an open field, the patrol came under heavy and accurate small-arms fire.
Well-planned ambush
The father of two who was second-in-command, said they were crossing a ditch, preparing to return to a checkpoint, when the shooting started.
Cpl Jones said: "I was just coming out of the ditch and most of the fire was coming at me. I hit the deck immediately.
"I have been shot at quite a few times and could tell the enemy was close. Gravel and dirt were flying up all around me from the bullets."
The soldiers withdrew to the water-filled ditch to return fire, but were trapped as the insurgents moved in to try to overwhelm their position.
Cpl Jones said that it was "obviously a well-planned ambush" and they had to "react quickly."
Firing a rocket at one of the insurgent positions, he ordered three of his men to fix bayonets before breaking cover and leading them across the open ground.
Occupied buildings
Cpl Jones said: "I asked them if they were happy. They were all quite young lads and the adrenalin was racing.
"I realised I'd left them behind a bit so had to slow down and was engaged again, so I organised my guys who started attacking the enemy firing points."
As two of the soldiers provided fire support, Cpl Jones prepared a hand grenade for the final assault, racing towards an alley.
He was about to throw the grenade, but said he realised that the buildings were occupied so put the grenade away, but this caused the insurgents to fall back.
Sporadic enemy fire continued and they were to launch another assault, but were joined by the platoon commander and the rest of the platoon, who had been suppressing the other enemy position.
"Before this, the locals were wary of us, but this showed they could trust us to protect them from the enemy and that we wouldn't endanger them while doing it," Cpl Jones said.
The soldier's citation states that he demonstrated "unflinching courage and extraordinary leadership in the face of extreme and tangible danger".
He "epitomised the best qualities of the British infantry: gritty determination, controlled aggression, tactical cunning and complete disregard for his own safety".