Shropshire Council parking fee cut may cost £283,000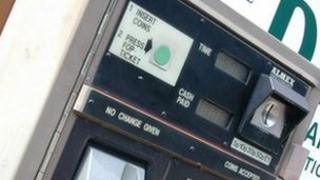 Shropshire Council could lose £283,000 under plans to cut parking charges across the county.
The proposals would mean parking in some areas would become cheaper for short-term parking and fees abandoned completely on Sundays in six towns.
The council's enterprise scrutiny committee is recommending the cabinet backs the plans on 17 October.
Committee chairman Steve Davenport said they would "go a long way to support local traders and bolster the economy".
Under the proposals, Sunday parking would be free in car parks in Market Drayton, Whitchurch, Ellesmere, Wem, Church Stretton and Much Wenlock.
However, on-street charges would be introduced on Sundays in Ludlow and Shrewsbury.
The proposals would also see all parking, except at Shrewsbury's Raven Meadows multi-storey car park, made free on bank holidays.
In Whitchurch, Wem, Market Drayton, Much Wenlock and Ellesmere, where presently drivers can choose to either pay 10p for up to two hours or £1.80 for between two and 10 hours, charging could be altered to 50p for two to four hours and £1 for four to six hours.
Drivers would only have to pay £1.80 for between six and 10 hours.
Officers have calculated the changes would cost the council a total of £218,000 over the next 12 months.
An extra £65,000 would have to be paid altering ticket machines and signs to accommodate the new tariffs.