Former school honours George Cross hero, WO Kim Hughes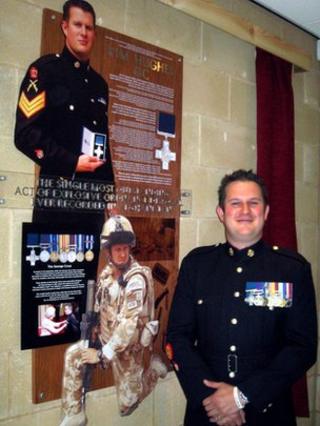 A plaque marking the bravery of an Army bomb disposal expert has been unveiled at a Shropshire school.
Warrant Officer Kim Hughes was awarded the George Cross in 2010 for helping to rescue soldiers by disarming seven landmines at a helicopter landing site.
A wall panel illustrating his actions has been put up at his former school, Thomas Telford School in Telford.
Head teacher Sir Kevin Satchwell said: "We are immensely honoured that Kim attended our school."
"To be able to number such a fine, extraordinarily gallant man amongst our former students is a privilege."
WO Hughes's bravery while on duty in Sangin Province, was described by the Army as the "single most outstanding act of explosive ordnance disposal ever recorded in Afghanistan".
Two people died and four others were seriously injured when two improvised explosive devices (IEDs) went off.
WO Hughes, of 421 Squadron 11 Explosive Ordnance Disposal Regiment, cleared a path, without any protective clothing, so the dead and wounded could be evacuated.
Lt Col Adam McRae, Commanding Officer of 11 EOD, said: "I hope that he can inspire the pupils at his former school as he continues to inspire my soldiers and officers."