Royal Mail set to move postal sorting from Shrewsbury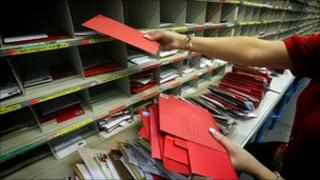 Royal Mail has said it is planning to stop processing post from its sorting office in Shrewsbury.
The centre, which deals with post for Shropshire and mid-Wales, employs 240 members of staff. Royal Mail said it was "too early to say" what would happen to the jobs.
The company said the proposals followed a six-month consultation with employees and unions at the centre.
Union officials said there was "a lot of anger" over the plans.
Royal Mail said the changes were needed because of a fall in the volume of post nationally.
'Worse service'
It said the number of mail items posted to addresses in Shropshire and mid-Wales from outside the area had fallen by nearly a quarter in the past five years.
It said that if the plans went ahead, all the post to the area would be handled by sorting offices in Chester, Cardiff and Wolverhampton instead.
The centre would, however, still be used as a delivery office.
Darren Jones, from the Communication Workers Union, said staff had already been informed of what Royal Mail wanted to do but added there was "still a lot of anger".
He added: "We also have fears of the quality of service throughout Shropshire and mid-Wales.
"We believe that the public will get a worse service as a result of this."
'Absolutely essential'
Royal Mail officials said they would now be holding another consultation until "late autumn", when a final decision will be made.
Processing director, Paul Parvin, said change was "absolutely essential" for the future of the company.
He added: "This is vital in order to put Royal Mail on a sound, secure and sustainable footing for the future."
Shrewsbury MP Daniel Kawczynski said he was "hugely saddened" by the move, saying Royal Mail had had a presence in the town since the 1880s and the mechanised office for 32 years.
He said: "Its loss will be a blow to the town and to both present and past employees."
He said he would be urging the company to reconsider the plans, but that if they went ahead, he would do "everything in my power" to help minimise compulsory redundancies.