Mickey Bushell: Gold postbox opposite family home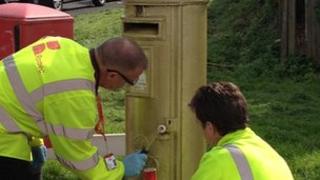 A postbox in Shropshire has been painted gold to celebrate the achievement of Paralympic gold medal winner Mickey Bushell.
He won his gold in the men's T53 100 metre wheelchair final on Monday.
The postbox is in Telford and is only 20ft (6m) from the family's home.
His father Pete said that his son had texted him to explain that he had deliberately chosen that particular postbox "so that he could see it when he got up in the morning".
It is one of about 80 postboxes that have so far been painted gold by Royal Mail in honour of Britain's winning athletes at the Olympic and Paralympic Games.
A special stamp, featuring Mickey Bushell, has also been issued by Royal Mail, the 18th Paralympic one to be released.
Bushell's family were in the stadium on Monday night to see him claim gold in a new Paralympic record of 14.75 seconds.
The World Championship silver medallist said his success this week had been thanks to "four years of hard work".
A member of the Birmingham Birchfield Harriers club, Bushell could pick up another medal as he competes in the 200m T53 class on Friday.