Shropshire postboxes unofficially painted gold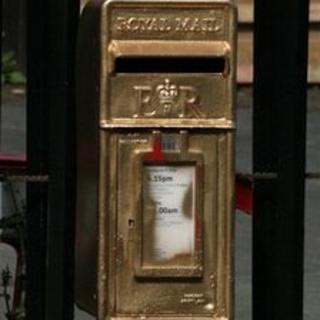 Several unofficially painted gold postboxes have appeared in Shropshire.
At least three have been spray-painted in the past week - in Beswick Road, Shrewsbury, and in the villages of Broomfields and Baschurch.
Royal Mail is officially painting postboxes gold in the home towns of winning British athletes at the Olympic and Paralympic Games.
A spokesman said: "While we understand the sentiment, we'd much rather people left the painting of postboxes to us."
The company added it was liaising with engineers to ensure the boxes were "repainted red in due course".
A box in Arleston Lane, Telford, will be officially painted gold on Wednesday to celebrate Mickey Bushell's Paralympic gold medal win in the Men's 100m - T53 final.
Royal Mail is also bringing out a gold medal stamp to mark the 22-year-old's achievement.