Dairy farmers blockade Muller factory at Market Drayton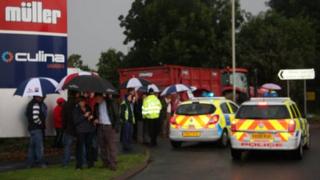 Up to 30 farmers blockaded a dairy in the Midlands in protest over falling milk prices.
They demonstrated at Muller's plant in Market Drayton with other protests reported at Robert Wiseman milk plants in the area.
The action, organised by Farmers for Action (FFA), was part of a campaign to get a better deal on the price they are paid for milk.
A spokesman for Muller UK said the farmers' action was unlawful.
Tractors and trailers blocked two entrances at the Muller factory on Friday evening.
A FFA spokesman said it expected to blockade the site for a few hours depending on negotiations with Muller.
West Mercia Police said the protesters brought the action to an end before midnight.
'Going bust'
Farmer Paul Rowbottom, from Farmers for Action, described the action as a "gentle reminder".
He said: "People are going to go bust. They're getting paid about 25p a litre and it's costing 31p a litre to produce it.
"All the supermarkets and dairies have got to get the price back to the farmer.
"There would be a 24-hour shutdown in the future if they don't come and give us the money.
"We'll just keep going one by one [with protests] until they get the message."
A spokesman for Muller UK, which also owns Robert Wiseman Dairies, said: "Milk prices are depressed throughout Europe and against that backdrop we continue to work to maximise the market price we can pay.
"We understand dairy farmers' frustrations and have no issue with peaceful protests but action which blockades roads is unlawful and serves no purpose other than to place an extra burden on staff who work for the company."
Hundreds of protesters
FFA has staged several protests at supermarkets and milk processors over planned price cuts of up to 2p a litre.
About 300 dairy farmers blockaded the Arla Foods factory in Ashby de la Zouch, Leicestershire, on Thursday.
On 6 August, farmers blockaded Farmfoods depots in Cheshire and the West Midlands.
Four days earlier, hundreds of protesters blockaded two supermarket milk distribution centres in Warrington and Northwich in Cheshire.
Last month dairy farmers used tractors and trailers to blockade a dairy in Droitwich Spa, Worcestershire, and demos have also been held in Derbyshire, Somerset and Yorkshire.