Fire at Stiperstones nature reserve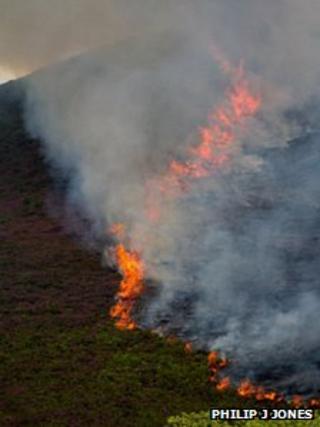 A fire has ripped through a Shropshire nature reserve.
About 70 firefighters were called out to the Stiperstones in the south Shropshire hills at about 15:00 BST.
The landlord at the Stiperstones Inn, Philip Jones, said: "Outside the pub you can see the flames really quite high and there is a lot of smoke.
"We've been running drinks out to the firemen because it's just so hot. There's no wind and the fire is just whipping its way around the hill."
A Shropshire Fire and Rescue Service spokesperson said they had damped down an area on the north-west face of a hill to act as a firebreak.
John Das Gupta, an area manager for the service, said: "Firefighters and officers from around the county have worked tirelessly for six hours tackling a severe fire on Oak Hill on the Stiperstones.
"Due to the severity of the fire and the size of the area that has burnt, firefighters will remain at the scene throughout the night."