Shrewsbury piano accompanist ponders Burma connection
By Clare Lissaman
BBC News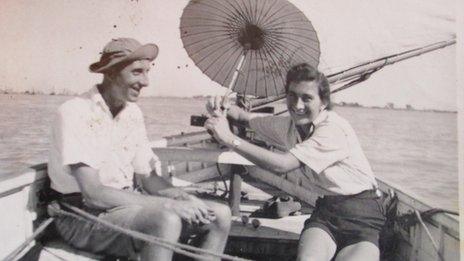 Burmese human rights advocate Aung San Suu Kyi visited the UK last month for the first time in 24 years, shortly after elections which saw her become her country's opposition leader.
The years of unrest in Burma have been closely followed by a 92-year-old Shropshire woman who was in the country when Ms Suu Kyi's father was assassinated 65 years ago.
Joyce Griffiths, a retired piano accompanist from Shrewsbury, said: "I felt devastated for them [the Burmese] until Aung San Suu Kyi came along.
"She is wonderful, she really is, and they all adore her."
As well as admiring Ms Suu Kyi, she shares the Nobel Peace Prize winner's love of the piano.
Mrs Griffiths went to Rangoon in October 1946 when her then husband, engineer Guthrie Penman, was tasked with repairing his firm's mill.
During World War II, Mrs Griffiths had driven ambulances in London during the Blitz.
She was later sent to entertain troops in Asia as part of a small company of singers, dancers musicians.
And after arriving in Rangoon, the 26-year-old was keen to set up a new group.
"The first thing I did was to find other musicians and I was helped by a government house chap who let me have his piano after he left," she said.
"It was soon after I got there, which was very useful."
Burma had come through three years of Japanese occupation and Mrs Griffiths believes the "wreck of the grand piano" was among only a few in the depleted country.
She said her "motley crew" of musicians included an Italian soprano, an American cellist who was a Baptist missionary, and a violin-playing doctor from China.
The British Council soon produced a new grand piano and encouraged the musicians to perform. Mrs Griffiths said Radio Rangoon, broadcasting from a hot dingy studio, aired the ensemble's "extraordinary mixture" of ballads, opera and Mozart.
The ensemble also played for the British Council and she has kept a letter from 1947, thanking the musicians for their "splendid recital".
"In an unmusical country this was indeed a treat and many people have expressed their gratitude and appreciation," the council wrote.
She loved her time in Burma.
"They called me the Irish of the East. They were lovely people and I wished I'd learnt more of their language," she said.
The small social circle in Rangoon included Burmese and British politicians and dignitaries, including Lord Louis Mountbatten, who hosted dinner parties, she added.
At the time, Ms Suu Kyi's father, Aung San, whose party helped Britain liberate Burma from Japan, headed an interim government.
Mrs Griffiths has sometimes wondered whether she met Ms Suu Kyi as a very young child and recently discussed this with her piano tuner Richard Love, who contacted the BBC to help.
"Someone asked me to teach these three little girls who were connected with politicians in some way," she said.
"This was the early part of 1947, and someone brought these three tiny little kids along for me to teach.
"Well, they couldn't speak English and, as I said, I only knew how to ask for a whisky and soda, so I used to write out notes on a piece of paper on a stave and point to middle C and point to the note and stick their wriggly fingers on the note and we gradually went up the scale, note by note, teaching them how to read."
However, the piano lessons and socialising were cut short by the assassination of Aung San in July 1947, when his daughter was just two.
"When the assassination came it disrupted everything," Mrs Griffiths said. "And everything more or less ground to a halt as we were all under curfew.
"A chap went into the parliament building and shot seven of them, just like that. And we were told to stay at home.
"And it wasn't long after that that [Clement] Attlee's Labour government decided to give Burma their freedom."
Mrs Griffiths and her husband left Burma the following year, but she stayed in touch with friends there, who sent rice parcels to help them through rationing.
Ms Suu Kyi has spoken of how playing the piano was one of her lifelines through years of house arrest.
Mrs Griffiths would love to think she had introduced her to the grand instrument, but believes she was probably too young to be one of girls at the piano keys in 1947.
Ms Suu Kyi's political party, the National League for Democracy, has been asked to comment.
Meanwhile, Mrs Griffiths, who also taught the flute around Shropshire, says her music skills have led to many opportunities.
"We all played at home and from the age of five I played [piano] and I haven't stopped since," she said.
"I've played for everybody."
Related Internet Links
The BBC is not responsible for the content of external sites.