Ironbridge Power Station: Government supports biomass plans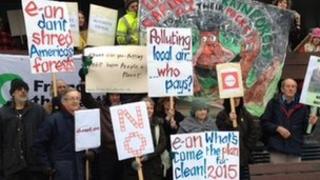 Plans to burn wood pellets at a Shropshire power station have been defended by the government in the face of criticism from environmental groups.
E.On, which owns Ironbridge Power Station wants to start burning wood imported from the US as well as coal.
Pressure groups say the plans are not sustainable or carbon neutral. E.On said 100 jobs will be safeguarded.
Energy Minister Charles Hendry said the scheme would be a "useful contribution towards a low carbon economy".
The plans to build a fuel store at Ironbridge Power Station were approved by councillors in Shropshire last month.
The company has said it plans to use wood from sustainable forests, sourced principally from North America and that burning bio-fuels will help it meet EU air quality controls by dramatically reducing carbon emissions.
'Encouraging biomass'
The group Biofuelwatch claims burning wood pellets would emit up to 50% more carbon dioxide than coal and that it would take "decades or even centuries for that carbon to be absorbed by new trees".
But Mr Hendry said: "It is quite legitimate to import the wood from overseas and Ironbridge would be a useful contribution towards a low carbon economy.
"If there's a dead forest in North America that no longer has any benefit and wood from that forest is going to be used in the mix then that's entirely legitimate.
"We want to make sure we move in a low carbon direction and we're encouraging power stations to convert to using biomass. "
E.On plans to import two million tonnes of wood a year to burn at Ironbridge Power Station and the UK produces 10 million tonnes a year.
The power station, which generates up to 1,000MW of electricity using coal from Russia, can power up to 750,000 homes.
E.On has said the plans would safeguard more than 100 jobs at the power station over the next three years.
The government's Bioenergy Strategy admits there is a "fundamental problem" with measuring the carbon emissions from wood sourced from countries out of the Kyoto Treaty.
It says using biomass sourced from America may make it appear to be more environmentally-friendly than it is.