Debenhams to be Shrewsbury shopping centre 'anchor tenant'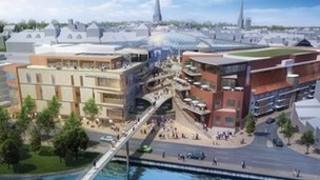 A major department store has agreed to be the "anchor tenant" at a Shropshire shopping centre, according to developers.
Debenhams will move into Shrewsbury's Riverside centre as part of a £150m redevelopment that will create other shops, restaurants, bars and offices.
Owners UK Commercial Property Trust (UKCPT) said a pre-let agreement had been signed with the store.
Shropshire Council granted planning permission earlier this month.
The redevelopment also features a 300-space underground car park and would connect the centre to the Darwin and Pride Hill centres.
The chairman of UKCPT, Christopher Hill, said: "The Council's decision to approve our plans and the signing of a pre-let with a leading national department store operator in Debenhams represent a major step forward for the planned New Riverside redevelopment.
"With these critical milestones achieved, UKCPT will continue to progress its plans for the scheme, while assessing all options for the creation of maximum value on behalf of its shareholders."