Lingen Davies Centre opens to patients in Shropshire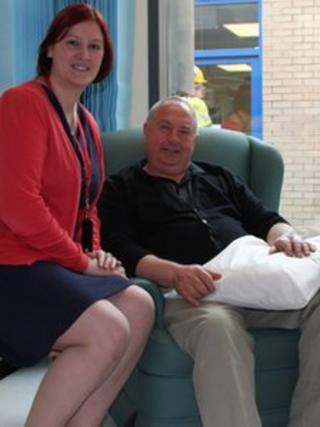 A new cancer and haematology centre in Shropshire has opened for patients.
Work began on the £5m Lingen Davies Centre at the Royal Shrewsbury Hospital last summer following years of fundraising.
Each patient has their own area, which comes complete with a window, space for visitors and is climate controlled.
The reception area and outpatients department is still being worked on and the building will be completed and officially opened in August.
Louise Cliffe, acting fundraising manager for the Lingen Davies Centre Appeal, said: "It is amazing to actually see this building up and running and treating the patients for the first time.
Public fundraising
"It's through the generosity of the people of Shropshire and mid-Wales that we have managed to raise this fantastic sum of money and now see the patients benefitting from the improved facilities."
The Lingen Davies Appeal, which was launched in January 2004, has raised £3.2m of the cost.
Other charities and funds have also contributed to the centre.
Julia Clarke, chair of the centre development project board, said: "I feel so humbled by the support that we've had from the community that we're providing the service for.
"This building, in total, will have cost over £5m and all of it has been raised by the public.
"We still have to raise the money for the furniture and equipment in the new building and we want it to open when it officially opens with the final building in August."
Martin Corbett, 54, from Wellington, who was at the centre for follow-up treatment for breast cancer, said: "It was marvellous to walk in an see the pristine building.
"It's so much bigger and lighter than the old place."