Man arrested over Lower Rudge armed robbery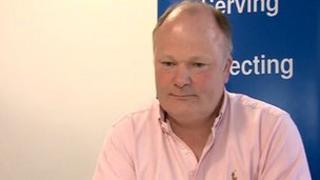 A man has been arrested by police over a robbery in which a couple were tied up an beaten in their Shropshire home.
Richard Barnfather, 48, and his partner Deborah Leadbetter, 37, were attacked by three masked men at their home in Lower Rudge on 9 March.
West Mercia Police said a 22-year-old man was being questioned in Shrewsbury on suspicion of carrying out robbery.
Police said he was arrested in Pennfields, Wolverhampton, in a joint operation with West Midlands Police.
'Extremely violent'
Mr Barnfather, a West Midlands businessman, has previously spoken about how the couple were dragged upstairs into the bedroom, while the men emptied out drawers.
He said: "It was absolutely terrifying to think you're confronted with a masked gunman."
The men had broken in through a window at the couple's home, near the south Staffordshire border, and escaped with jewellery and cash worth more than £50,000, as well as three luxury cars.
Det Insp Mark Bellamy from West Mercia Police said: "This was an extremely serious and violent incident and a terrifying ordeal for the two victims, I urge anyone with information which might assist the police to contact us."
He also said a £14,000 reward was still being offered for information leading to the arrest and conviction of the offenders.