Ironbridge Power Station fuel store plans approved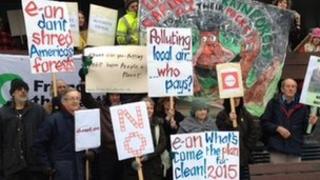 Plans to build a fuel store at Ironbridge Power Station have been approved by councillors in Shropshire.
E.On, which owns the plant, wanted somewhere to store the wood pellets that it wants to burn alongside coal, until the site closes in 2015.
It says burning bio-fuels will help it meet EU air quality controls by dramatically reducing carbon emissions.
Telford Friends of the Earth said it was concerned about the idea and claims wood fuel is not carbon neutral.
E.On said the decision would safeguard more than 100 jobs at the power station over the next three years and that a rejection would have meant closing the plant within 10 months.
The company said the wood it plans to use will come from sustainable forests, sourced principally from North America.
'Actually worse'
Ahead of the decision, dozens of environmental campaigners protested outside the planning meeting which took place at Shire Hall in Shrewsbury.
Rob Saunders, from Telford Friends of the Earth, said: "It's meant to be a good thing but we have very little confidence in the supplier of the wood pellets actually planting forests to replace those that are cut down.
"The other aspect is that scientists have said burning wood fuel on this is scale is not carbon neutral and actually worse for climate change not better."
E.On said the power station already burned cocoa husks and the future emissions would be "subject to strict controls to ensure this material is only sourced from accredited sustainably managed woodlands".
The group Biofuelwatch said burning wood pellets would emit up to 50% more carbon dioxide than coal and that it would take "decades or even centuries for that carbon to be absorbed by new trees".
The power station, which generates up to 1,000MW of electricity using coal from Russia, is due to be decommissioned in 2015.