Shrewsbury Abbey criticises government church VAT plans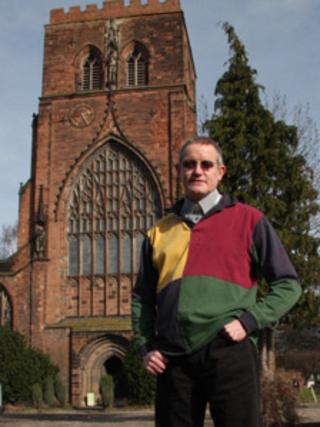 The vicar of Shrewsbury Abbey said he believes government plans to charge VAT on alterations to listed churches are "anti-church and anti-Christian".
Approved alterations to listed buildings, many of which are churches, will be subject to 20% VAT instead of being zero-rated from October.
Shrewsbury Abbey has launched a campaign to raise £1m for repairs to the organ and building restoration.
The Reverend Paul Firmin said the policy is a "false economy".
He has written a letter of complaint to Conservative MP for Shrewsbury Daniel Kawczynski saying the Chancellor's actions were "short sighted in the extreme and seemingly yet another anti-church and anti-Christian step."
'Even bigger burden'
Mr Firmin said the move would add £80,000 to the £400,000 cost of restoring the organ alone.
The abbey currently draws 30,000 visitors a year, which they hope to double by 2020, but each visitor, on average "leaves us with the princely sum of just under 35p," he added.
"To be blunt, the 100-strong congregation of Shrewsbury Abbey are practically alone in paying for the upkeep of a building which brings benefit to a wide community.
"And now the Chancellor wants to lay an even bigger burden on us."
The government has said the change "removes a perverse incentive to change listed buildings rather than repair them".
VAT charged on alterations on listed buildings will be brought into line with VAT on repairs and maintenance, which is already subject to the 20% standard rate.
The abbey dates back to 1087 and was home to Ellis Peters' fictional character of Brother Cadfael.
Launching the appeal last month, Mr Firmin said the current visitor facilities were "inadequate" and parts of the building's stonework were in urgent need of restoration.