Shropshire hospital unit work could start in July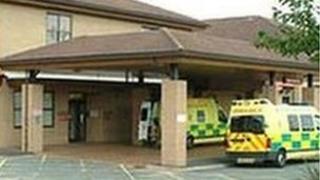 The trust responsible for Shropshire's two main hospitals has said work on a new £28m children and women's unit in Telford could start in July.
It is part of a reorganisation of services at the Royal Shrewsbury and Telford Princess Royal hospitals.
Last year more than 20,000 people signed a petition against the move of consultant-led maternity and paediatric services from Shrewsbury to Telford.
But planning permission for the new unit was granted on Wednesday evening.
Approval was granted by Telford and Wrekin Council on the condition that improvements were made to transport access for staff, patients and visitors.
Trust chief executive Adam Cairns said plans for the new unit would be submitted to the strategic health authority within the next few weeks.
"What we're hoping for is that we'll get a result sometime in May and we're planning a start on site for July this year," he said.
Acute care
Mr Cairns added that the new building was expected to open in summer 2014.
The trust's plans to merge consultant-led services at either Shrewsbury or Telford hospitals, rather than maintaining them on two sites, also include moving all vascular and in-patient abdominal surgery to the Royal Shrewsbury Hospital.
Shrewsbury will also retain a midwife-led maternity unit.
Earlier this month the trust was awarded £35m by government to help fund the reorganisation plans.
The hospitals are the main providers of acute care not only for Shropshire, but also mid Wales.
The trust also said the recruitment for a new chief executive had started, following the resignation of Mr Cairns earlier this month.