Digital artwork Core unveiled at Ironbridge Gorge Museum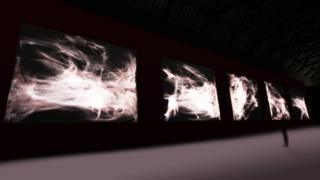 A large-scale digital artwork in celebration of the Olympics has been unveiled in Shropshire.
Entitled Core, the installation at Ironbridge Gorge Enginuity Museum is part of the 2012 Cultural Olympiad.
Created by Chicago-based artist Kurt Hentschlager, Core was funded by a grant of almost £100,000 from Arts Council England.
It features ever-changing computer-generated video projections of humanoid figures inside giant virtual aquariums.
Some 33m (108ft) long, the installation includes five screens featuring distinct groups of identical figures and an ambient soundtrack.
'All dimensions'
Mr Hentschlager said the seemingly three-dimensional "bodies", without gender or individual features, were almost like clones, floating in a zero gravity environment.
He said: "Sometimes they interact like a school of fish... and at other times like intricately choreographed modern ballet dancers.
"It is about a weird, impossible space where gravity can be controlled in all dimensions."
On display until 30 September, the installation is one of the biggest Cultural Olympiad projects in the West Midlands and the only museum piece in the region to be part of the London Festival.
Anna Brennand, Deputy Chief Executive at Ironbridge Gorge Museums Trust, said the organisation had worked with Arts Council England to invite bids from several artists.
"Kurt's bid just seemed a perfect match for Ironbridge. This area is closely associated with innovation and entrepreneurship," she said.
Mr Hentschlager said he had put more than two years of work into Core, before he was invited to submit a bid for the Ironbridge installation in 2010.
'Cloud of sound'
"At first I didn't want to submit. I thought, 'what do I know about the Olympics?' But then I thought about this piece and in some ways, especially the social aspect, Core was perfect," he said.
The artist said the installation had taken four years to create, using computer software to create the figures and build up a "library" of movements and combinations in which the 130 bodies can interact.
Rather than an edited video, Mr Hentschlager said the bodies had their own lives and were governed by a set of computer-driven rules.
He added that the soundtrack was created by the movements of the bodies, rather than a looped composition.
"Each group is like a cloud of sound and each individual body is one instrument, so we have about 130 discreet sources of sound... that all adds up throughout the space to a symphonic, drone-like impression," he said.
Core is on display in the Engine Shop at Enginuity from 10:00 to 17:00 daily and entry is free.
Ms Brennand said she hoped the exhibition would draw a lot of new visitors to Ironbridge from across the West Midlands.
The town also hosted the West Midlands launch of the Cultural Olympiad in 2008.
The Olympiad culminates on 21 June with the London Festival, which continues throughout the Olympic and Paralympic Games.