Shropshire armed robbery victims 'feared for their lives'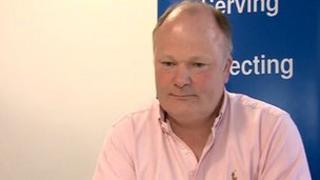 A Shropshire couple have said they feared for their lives during an armed robbery earlier this month.
Richard Barnfather, 48, and his partner Deborah Leadbetter, 37, were tied up and beaten by three masked men at their home in Lower Rudge on 9 March.
The three men, one of whom had a handgun, escaped with jewellery and cash worth more than £50,000, as well as three luxury cars.
The Aston Martin, Range Rover and Mercedes were later found abandoned.
Mr Barnfather said: "When the reality hit, it was absolutely terrifying to think you're confronted with a masked gunman. You think 'how's this going to end?'"
The three men broke in through a window at the couple's home near the south Staffordshire border at about 22:00 GMT.
£25,000 ring
"We both had our hands bound and my legs were also tied. We were left battered and bruised," he added.
Mr Barnfather said the couple were dragged upstairs into the bedroom, while the men emptied out drawers.
Among the items taken were a £25,000 diamond ring, a diamond bracelet and a silver Cartier watch.
"He gave me this double head blow on the side of the temple. They were also physically rough with Deb."
The three men escaped in the couple's cars, which were abandoned in Tipton, Smethwick and Wolverhampton within an hour.
A £14,000 reward has been offered for information leading to the arrest and conviction of the offenders.
One of the robbers is described as a 5ft 10in to 6ft tall man of medium build and of Asian appearance.
He had a thin moustache and several gold teeth.