Badgers in Shropshire and Cheshire to get TB vaccine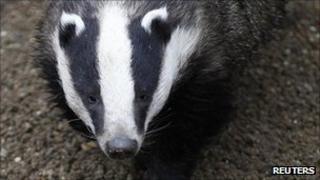 Badgers on a Shropshire nature reserve are to be vaccinated in a bid to stop the spread of bovine tuberculosis.
Shropshire Wildlife Trust will start a five-year vaccination scheme on one of its reserves this autumn.
The trust said the move would help control the disease long term and was in response to two trial badger culls by the government which it opposes.
The government said the culls aimed to fight a disease which in 2010 lead to the slaughter of nearly 25,000 cattle.
Announcing the trial culls in December, Environment Secretary Caroline Spelman said she knew there was "a great strength of feeling on the issue", but action had to be taken before the situation got worse.
The Shropshire trust said it was conscious of the "impact of this disease" on the farming community and the need to put measures in place.
'Complex problem'
However, it said it did not consider culling to be effective and instead believes it would make matters worse by making badgers range outside their normal territory.
It will work with Cheshire Wildlife Trust which will vaccinate badgers at one of its sites.
Helen Trotman, who will be carrying out the vaccinations, said: "This is a complex problem that will not easily be solved, but the trust wants to do something positive and we know vaccination can significantly reduce the disease burden in badgers."
Gloucestershire Wildlife Trust carried out the UK's first independent badger vaccination project last year.
The Department for Environment, Food and Rural Affairs (Defra) says culling, combined with other measures, in highly affected areas can contain a disease that is costing about £100m per year.
Pilot culls will take place in Gloucestershire and Somerset and their impact assessed.
The government is not against vaccination but believes it would have much more success when an edible formulation becomes available, which could take another five years.