Shrewsbury town centre roads revamp planned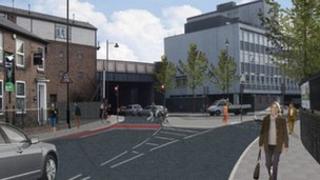 Proposals for the redevelopment of the northern approach to Shrewsbury town centre at a cost of nearly £1m, have been released by Shropshire Council.
The plans include changes to the junctions around Chester Street, Smithfield Road and Castle Foregate.
Shropshire Council said the project would improve congestion and pedestrian safety.
The plans are due to go on display at The Gateway Centre on Chester Street on Wednesday.
A consultation period is due to close on 23 April.
The project also includes new traffic lights and wider pavements, which will also include a series of new cycle lanes.
New pedestrian and cycle crossing are also planned, as well as new lighting and improved access to the town's railway station.
Councillor Simon Jones said the proposals would "greatly improve this area of Shrewsbury and make it quicker, easier and safer to travel in and out of the town centre".
Work on thelatest phase,which could start in August, will be part-funded from a £6m Growth Point grant from the Department of Communities and Local Government.