Shropshire Archives seek 'army' of volunteers for photo project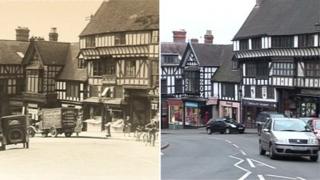 In a basement at Shrewsbury's archives library a huge stack of plain brown boxes lay on shelves in rows 24 high.
Between them, they contain 45,000 photos, some dating back to the 19th Century and about many of which almost nothing is known.
Head of Shropshire Archives Mary McKenzie said: "A lot of it is a mystery and that's why we need people's help."
Project manager John Benson said the photos had come from a wide range of sources, from people's wills to donations from families, groups, businesses and others.
Mr Benson said: "It's not just pretty Shropshire. It's representative of all Shropshire life. Not just farms and Stretton hills, but also Telford new town, Shrewsbury Town Football Club, demolitions and workhouses."
In some cases, such as in early 20th Century images of Frankwell or Wyle Cop in Shrewsbury, or Ironbridge's Wharfage, it is surprising how little has changed in almost 100 years.
Medieval parchments
Some 23,000 images have already been catalogued by volunteers since 2006 but almost the same number again are lacking simple information on the scenes, events and people depicted.
In a temperature-controlled vault the photos live alongside medieval documents and records dating back to the 16th Century.
Mr Benson said in many cases more was known about 700-year-old parchments than about photos taken within people's lifetimes.
Volunteering for Shropshire's Heritage, a three-year Heritage Lottery-funded project, hopes to recruit a team of volunteers to complete the photo archiving job.
One of the volunteers, John Ravenscroft, said many of the photos had a "wow factor", including images of floods or disasters such as a train derailment.
Mr Ravenscroft said: "The Quarry photos of the flower show are fascinating. We're used to the flower show, but in days gone by they used to have high-wire acts and balloon festivals.
"With a lot of them we don't know who's on them, we don't know why a photo was taken, we don't know if there was a particular event happening."
Social element
About 15 volunteers are currently involved with the project, although Mr Ravenscroft said an "army" was needed.
Mr Benson said it was important volunteers got something out of the experience.
He said in some cases it was something for their CV, or had a social element to it.
"You'd also be amazed the number of times I'll open a box at random and they'll say, 'oh I used to live there,' or 'my grandfather owned that'," he added.
Mr Benson said many volunteers knew their local area far better than professional archivists.
All of the photos that are catalogued will also be digitised and uploaded to the Shropshire Archives website. A series of exhibitions is also planned.
Mr Benson said uploading the pictures to the internet would allow the department to create connections between photos and other documents, or objects in the museum collection.
Shropshire Archives hopes uploading the images to the internet will prompt people to keep the flow of information continuing for many years to come.