Shrewsbury Riverside shopping centre 'to create 700 jobs'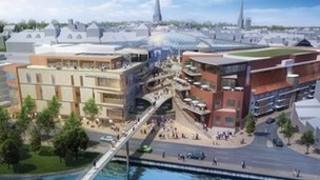 More than 700 jobs could be created at a Shrewsbury shopping centre, according to developers.
The plans include a £150m redevelopment of the town's Riverside centre which would see it connected to the Darwin and Pride Hill centres.
A planning application has been submitted by owners UK Commercial Property Trust (UKCPT), who said work could start in the summer of 2013.
A public consultation period closed on 3 March.
A decision is expected to be made by Shropshire Council's planning committee by the end of May.
If approved, the revamped Riverside shopping centre is expected to include about 50 shops as well as restaurants, bars, offices and a 300-space underground car park.
The nearby multi-storey car park and bus station would also be revamped, with the shopping centre expected to be open by the end of 2015.
Developers Shearer Property Group (SPG) are due to present the plans to Shrewsbury Town Council's planning committee at a public meeting on Tuesday.