Shropshire hospitals receive a £35m government funds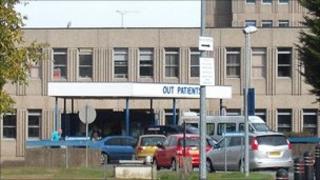 A Shropshire NHS trust is to receive an extra £35m from the government to help fund re-configuration plans for two of the county's hospitals.
Some of the money will be spent on a new women and children unit at the Princess Royal Hospital in Telford.
Royal Shrewsbury Hospital will become the main base for inpatient acute general surgery.
The money has come from a £336.5m pot that has been earmarked for hospitals across the UK.
Shrewsbury and Telford Hospital NHS Trust will receive £2m this year with a further £33m made available in the next financial year.
The trust chief executive, Adam Cairns, said the funding would help maintain services for patients across the county and mid Wales.
He said: "We have faced some real challenges to keep services local, and have seen more and more services leaving our hospitals to specialist centres outside the area.
"With the support of this national capital funding programme we will be able to strengthen the Princess Royal Hospital as our main centre for inpatient women and children's services, and the Royal Shrewsbury Hospital as our main centre for acute surgery.
"This will ensure that local people have centres of excellence that will provide the best possible care, and continue to attract the best doctors, nurses and other clinical staff to the county."