Cosford railway station reopening delayed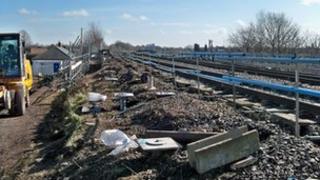 The reopening of a Shropshire railway station has been delayed because engineers have run into problems while building the platforms.
Cosford station will now reopen on 16 April at the latest and a replacement bus service will continue in its place.
Network Rail said it had hit a number of concrete blocks in the ground, which workers were not aware of.
The £2.1m project to rebuild the station began on 31 October and it was originally due to reopen on 12 March.
Despite putting a number of test holes into the ground, the problems came to light when engineers tried to install steel piles which form the base for the new steel platforms.
Network Rail spokesman Keith Lumley said: "We have literally hit obstacles. We have hit a large number of concrete blocks which we weren't aware were buried in the embankment.
"The date we have given to London Midland, who are continuing with their replacement bus service, is 16 April, but obviously we are hoping to get the work done much quicker and hopefully even in time for the Easter weekend."
The improvement work includes adding two replacement platforms, fencing, shelters and staircases.