Ironbridge Gorge stabilisation funding discussed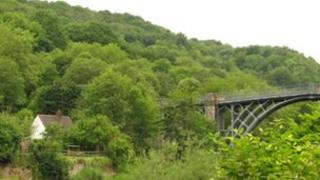 Talks are taking place over who will pay for £20m of stabilisation work at Ironbridge Gorge in Shropshire.
Telford and Wrekin Council deputy leader Richard Overton said it was proposing to pay £5.6m of the cost.
He said the Labour-controlled authority was negotiating with the government to make up the shortfall.
The Conservative group said it had criticised Labour for ignoring the government's offer to fund 60%, which would leave it needing to find £8m.
The council has said it cannot afford that.
'Change of heart'
Mr Overton said it was the first time for more than six years that the council had "committed money to this issue".
A previous Conservative administration "budgeted zero pounds for the work", he added.
Conservative leader Andrew Eade said he welcomed "this last minute change of heart" by the Labour administration in response to the pressure "we applied" at the last full council meeting.
He said the authority's proposal was now to borrow an extra £5.6m over the next four years "to top up the substantial £14.4m government grant that we negotiated last April".
The council said the government had only ever told the authority that it would contribute £12m.