Shropshire community hydro-electric scheme offers shares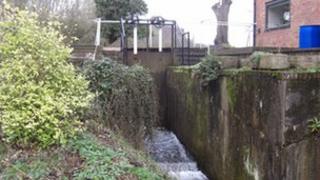 Shares have gone on sale for a project to build a community hydro-electric scheme in south Shropshire.
A co-operative, based in Neen Sollars, near Cleobury Mortimer, hopes to harness power from the River Rea at the site of a former mill.
People can invest any amount from £250 to £20,000.
Bill Duley from the co-operative said: "You buy a share somewhere in that range and you have one vote regardless of the value of your share."
Neen Sollars Community Hydro Co-operative predicted the 10kW turbine would generate the equivalent of 20% of the power used by the village.
Electricity would then be fed into the national grid over the project's expected 20-year lifespan.
The group said it needed to raise £150,000 to build the hydro-electric installation at the Tetsill Mill site.
A grant of £20,000 has been allocated to the scheme from Shropshire Council's Market Towns Revitalisation fund.
Members of the co-operative would earn money through the government's sustainable energy feed-in tariff.