Darwin's Shropshire garden offered for sale to trust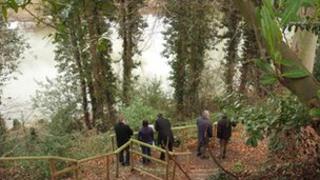 A wildlife trust in Shropshire has been offered the chance to buy part of a garden once owned by the Darwin family.
Charles Darwin was born in 1809 in The Mount, which overlooks Shrewsbury, and includes a walled garden, woodland and river.
Shropshire Wildlife Trust needs to raise £75,000 to buy and develop the privately-owned land.
Lady Cossons, from the trust, said: "No other part of Darwin's childhood home is accessible to the public."
In addition to purchasing the land, the trust said the money would also be used to create paths, open up views of the river and produce interpretation material, as well as fund ongoing maintenance.
The trust said the acre of steep, wooded land once played an important role in Darwin's childhood.
Everyday before breakfast as a child, the naturalist would walk along what became known as the Thinking Path.
Lady Cossons said: "This would provide a much-desired opportunity for people to see where the young Darwin lived."
The daily ritual made such a great impression on the future author of On the Origin of Species, that Darwin created his own Sandwalk route when he set up home in Kent with his wife Emma.
An open day at the garden last weekend, run by Harper Adams University College, raised £1,200 for the Darwin Garden Appeal.