Father and daughter saved from icy Long Mynd hill plunge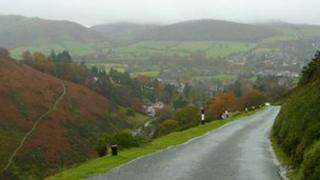 A father and daughter were rescued from their van which was "dangerously" close to slipping off an icy road into a steep valley in Shropshire.
The pair ignored a road closure sign on Burway Road over beauty spot Long Mynd on Saturday, police said.
They slipped to the road's edge and the man had to keep the handbrake and footbrake on while they called police.
A police 4x4 vehicle then parked behind the van to act as a barrier before fire crews moved it.
The man was reported for ignoring the sign.
Sgt Adrian Woolley, from West Mercia Police, said the road, in Church Stretton, was closed due to the dangerous wintry conditions.
The highest parts of the Long Mynd reach more than 500m (1,640ft).
'Going over edge'
"The man and his adult daughter were terrified," he said.
"They could not drive forward or back due to the road being covered in ice and their van had slid dangerously close to the edge of the road with a huge drop immediately below.
"The daughter managed to get out of the passenger's side but the driver was unable to move for fear of going over the edge.
"He had to remain in the vehicle with the handbrake on and his foot firmly on the brake to prevent it sliding further."
He praised the actions of the officer at the scene who prevented serious injuries.
"When PC Preston arrived he saw the van was sliding and used his four-wheel drive to act as a barrier," he added.
"It did slide into the police vehicle causing slight damage but the man was eventually able to get out safely.
"The actions of PC Preston may well have prevented an incident resulting in serious injury."