Cash award over River Severn power plan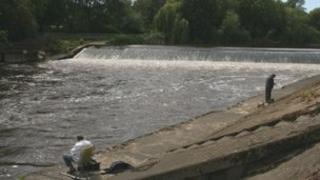 More than £40,000 has been awarded to a Shropshire group which is hoping to generate power from the River Severn.
Transition Town Shrewsbury has said the weir at Castlefields in the town could generate up to two million kilowatt hours of electricity a year.
It was awarded £42,725 after the group applied to the government's Local Energy Assessment Fund.
The money will allow designs of the plans to be put together ahead of preparing a planning application.
Town centre exhibition
These designs will be incorporated into scale models of the site, which will be put on show for public consultation and comment at an exhibition around the end of March.
This will be available in the town centre before being moved to community halls in Castlefields and Underdale.
Transition Town Shrewsbury has said turbines from the proposed initiative could be used to power between 350 and 400 houses in the area.
About four million tonnes of water could flow down the river each day when it had been raining, the group has said.
The money was awarded for Shrewsbury Hydro, which is part of Transition Town Shrewsbury, to finalise its plans for the possible scheme.
Action now being paid for by the government fund will build on work under way using £15,000 which Shrewsbury Hydro secured from the Energyshare Fund last year, including environmental surveys on land alongside the weir.
Transition Town Shrewsbury said it was a community interest group looking at sustainability in the long term.