Shropshire Council plans Arthog Outdoor Centre cuts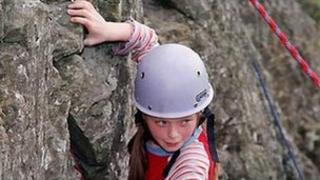 Funding to allow children from the poorest families to visit a residential centre could be cut under plans being considered by Shropshire Council.
Hundreds of children a year from across the county visit Arthog Outdoor Education Centre in north Wales.
Shropshire Council said it needed to make £85m savings by 2015 and that the current funding model was unfair.
The plans have been recommended for approval and are due to go before the council's cabinet on Wednesday.
Karen Bradshaw, Shropshire Council's head of learning and skills, said: "For families on low incomes, schools can continue to fund pupils to visit Arthog Outdoor Education Centre."
Low-income families
The Conservative-controlled authority said that financial support for Arthog, near Barmouth, did not apply to similar schemes and that it was unfair to schools that did not use the centre.
Ms Bradshaw said that local schools recently received an extra £246,000 to support children from low-income families, through the government's Pupil Premium fund.
She said: "The Pupil Premium has been announced to double in total in 2012-13, and then to double again by 2014-15, so the total figure will reach £7m by 2014.
"They [schools] can use this, if they wish, to fund pupil visits to the centre."
Shropshire Council said the plans were due to come into force from July and would save £18,000 this year and about £60,000 in 2013-14.
The centre is owned and operated by Telford and Wrekin Council, which recently voted in favour of maintaining its funding.
A spokesman for the Labour-led Telford and Wrekin Council said: "The services provided at Arthog will continue as normal.
"Following a recent review, cabinet endorsed a recommendation to retain the current Telford and Wrekin remissions policy without change and, as such, qualifying children are entitled to a funded place."
It said Shropshire Council's plans would not affect the running of Arthog.