Charles Darwin: Garden map of The Mount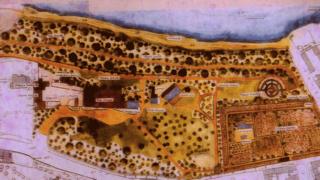 The Mount garden in Shrewsbury provided the young Charles Darwin with mental stimulation and an environment for quiet contemplation for his morning walks.
It comprised a kitchen garden, filled with herbs and vegetables, and next to that a hot house for exotic plants his father collected.
Behind the kitchen garden was a formal flower garden and two summer houses.
Abutting the flower garden and running parallel with the Southam River which ran through the back of their garden was the elliptically shaped Thinking Path.
Darwin was so fond of the Thinking Path of his childhood he created a replica at his own home in Kent, which he called the Sandwalk.
Part of the original garden is being opened on Sunday to celebrate Darwin's birthday.