London 2012: Disabled artists tackle Olympic challenge in medieval town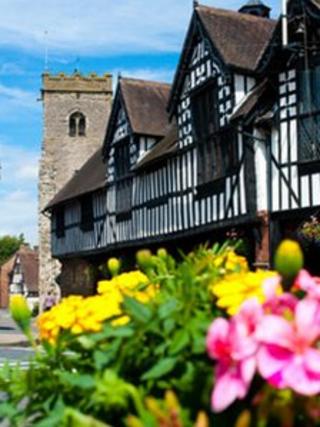 What challenges face disabled people living in a medieval market town in 21st Century England?
A group of disabled artists are hoping to start this debate when they stage a series of street performances in Shropshire.
Among their number is a deaf soundman and a blind cameraman who have been asked to make a documentary about the event in May.
The chocolate box town of Much Wenlock, which provided the inspiration for the modern Olympics, will host the artists as part of the London 2012 Cultural Olympiad.
Their first hurdle is to find somewhere to meet.
Art director Mike Layward said: "It's a very pretty, typically English town and you get hordes of tourists all year round but it's been very difficult finding anywhere with wheelchair access to meet in.
"I think there's one cafe that we can get into. It's not that they don't want disabled people here, it's just that they've got a lot of listed buildings."
Tate Modern
Access is not the only obstacle for the West Midlands disability arts group DASH.
It is deeply concerned about the impact that spending cuts will have on the lives of their 100 or so members.
Mr Layward, from Stiperstones, Shropshire, said: "People living with disabilities are particularly vulnerable to cuts because they have a higher level of need.
"For example, if you are elderly you get help with heating your home because it is assumed that you will feel the cold more and move around less.
"The same can be said for some people with limited mobility. That's just one example.
"My friends are very anxious about what will happen to their disability living grants."
The Department of Work and Pensions said Disability Living Allowance (DLA) had not changed in 20 years and failed to take account of the productive role disabled people play in society.
'Reality shift'
It said that from 2013 it would replace DLA with Personal Independence Payment, a new more objective benefit instead.
DASH members remain sceptical and their concerns inspired Mr Layward to commission Pontesbury artist Tanya Raabe to produce a series of portraits of a man recently diagnosed with Parkinson's disease.
Mrs Raabe, whose work has been on display at the Tate Modern in London and Liverpool, said: "It's a portrait of 21st Century man who is going back to live in medieval times.
"I'm bringing into the portrait the idea of the current cuts which parallels how the disabled were treated in the past with witch hunts and being cast into poor houses."
She said her work was a comment on plans to turn away from the current social mobility model of disability towards the pre-1970s view of the medical disability model.
The former introduced policies to allow people with disability to be included as productive members of society, leading independent lives.
The latter treated people with disabilities as a problem to be fixed.
"If you were born with twisted arms the doctors would try to straighten them, whether you wanted them to or not, because you were seen as the problem and it was their job to make you conform," Mrs Raabe said.
Human baton
Government cuts mean the criteria for DLA is changing and medics will assess in future who is eligible to receive it.
"I think this is a return to the medical model, sending doctors to assess disability, we are going back to the 1970s," the oil and acrylic artist said.
None of the performers are forthcoming about their form of disability, preferring instead to be taken at face value and judged according to their work.
Among the artists performing at the M21 Disability Live Art Festival in May is performance artist Noëmi Lakmaier who will turn herself into a human baton to be carried around the town by men as part of a relay.
Her work seeks to explore the role of women's passivity in society, but can also be seen as a light-hearted piece about the Torch Relay or Olympic relays, Mr Layward said.
"It's not the type of thing you expect to see when you're popping into town to do some shopping, to see disabled people dressed up as satirical Olympic mascots performing in the street. It makes reality shift a little bit and will probably make people ask what it's all about. The performers will be around for people to talk to and then they can start sharing their ideas."
That is how he sees the projects working, as art first and possible talking points too, stimulating reflection on what it is like to be disabled in 21st Century England.