Work on Newport development site causes political row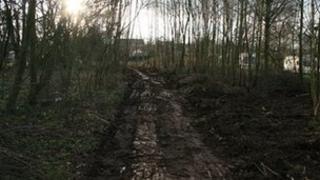 Work to clear a council-owned site in Shropshire earmarked for development has caused a row because planning permission has not yet been granted.
Labour-led Telford and Wrekin Council has begun preparing the site on Station Road, Newport, for a potential new supermarket, petrol station and houses.
Conservative councillor Andrew Eade wants work to cease until the development gets a green light.
Deputy leader Richard Overton said it was just "securing the land".
A decision on whether to grant permission is due to be made next month following consultation.
Mr Overton said the council was within its permitted development rights to prepare the area and that a press release had been issued notifying people of the work.
He said: "Most major developments when they get the application in secure the site because if the permission is granted they can get to work straight away.
"All the council is doing is securing the site and diverting the footpath under the legal obligations needed to do that.
"If the consultation says no then it's back to the drawing board."
Mr Eade said the whole affair "smacks of political pre-determination".
"I'm just staggered to be quite honest that the council could be so insensitive and just ride roughshod over local people when there's so much strong feeling about it," he added.