River Rea community hydro-electric scheme in Shropshire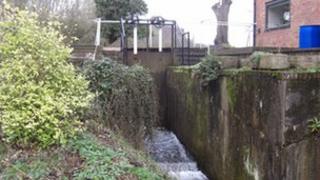 A community hydro-electric scheme has been started in south Shropshire.
The group, based in Neen Sollars, near Cleobury Mortimer, hopes to harness power from the River Rea at the site of a former mill.
Neen Sollars Community Hydro Co-operative predicted the 10kW turbine would generate the equivalent of 20% of the power used by the village.
Electricity would then be fed into the national grid over the project's expected 20-year lifespan.
However, the group added that the water turbine could have an operational life of more than 50 years.
Members of the co-operative would earn money through the government's sustainable energy feed-in tariff.
Local investors
The group said it needed to raise £150,000 to build the hydro-electric installation at the Tetsill Mill site.
A grant of £20,000 has been allocated to the scheme from Shropshire Council's Market Towns Revitalisation fund.
The award came after a bid by local social enterprise company Cleobury Country Ltd, which will reinvest any returns into other local environmental projects.
The co-operative said it hoped to find the remaining £120,000 from local small and large-scale investors, with a share launch planned for 18 February.
The group said it would sell shares worth £250 to £20,000, with a 4-5% rate of return expected per year over the 20 years.
A feasibility study has already been completed and a fish ladder has been installed to allow salmon to swim up-river when the turbine is in place.
Project manager Bill Duley said: "This water used to be harnessed in a mechanical way and of course we've moved into electricity."
He added that the group planned to use the existing sluice gate, which dated back about 100 years.
Shropshire councillor Gwilym Butler said the project was a great example of a community coming together.
The project follows a similar share offer by Leominster Community Solar, based in Herefordshire.
The Neen Sollars group said it would be the first hydro-power co-operative in the West Midlands region.