Rowton meteorite 'very important' in solar system study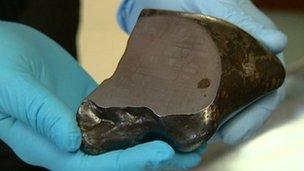 A meteorite that fell in Shropshire has been described as "significant" in the study of how the solar system formed.
Parts of the Rowton meteorite, which fell in 1876, are examined by scientists and kept in museums all over the world, Dr Caroline Smith, of the Natural History Museum, said.
Ms Smith said: "It's very important to us here too because it's one of few that have been seen to fall in the UK."
She said it is one of 1,100 witness meteorites to be recorded.
According to Ms Smith there are just over 41,000 known meteorites and six or seven are thought to be recorded each year.
A 3kg (6.6lb) part of the Rowton meteorite is kept at the Natural History Museum in London but Ms Smith said other parts have been distributed to other collections at Harvard in the US and Vienna in Austria.
Ms Smith said: "Being made of iron, people who are interested in seeing how planets formed like to study these types of meteorites.
"We believe it formed in the inside of an asteroid and we think early in the solar system some asteroids got large enough that they started trying to become planets or planetesimals.
"We think the Rowton meteorite came from the core of one of these baby planets."
Ms Smith said modern technology such as CCTV has started to make the process of recording meteorites easier.
She said: "One of the side effects of our surveillance society is that we're able to work out where they land - it's becoming more common but they're also still very, very rare.
"It really would be a once in a life time experience to see one fall."
Related Internet Links
The BBC is not responsible for the content of external sites.