Telford fire: Newborn baby and four others hurt in fire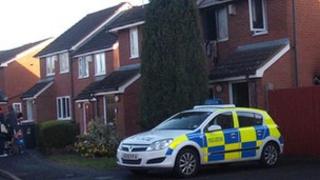 Two adults and three children, one of them a newborn baby, were taken to hospital after a serious house fire in Shropshire.
The fire started at about 01:35 GMT in a two-storey house in Teal Close, near Brookside, Telford.
The five people escaped from the house through a first-floor window. Fire crews treated the man and the woman for the effects of smoke inhalation.
Ambulance crews treated the children and the baby, who had a head injury.
Neighbour Natalie Elcock said: "As soon as everyone was out and we'd moved them all away, the windows went through. But we were just concerned about the kids."
A spokesman for Shropshire Fire and Rescue Service said they believed the fire was started by a portable heater and it was not being treated as suspicious.
West Midlands Ambulance Service said the woman, who is believed to be in her 20s, had also fractured a leg.
All five were taken to the Princess Royal Hospital for checks.