New lottery bid over Ditherington Flax Mill plans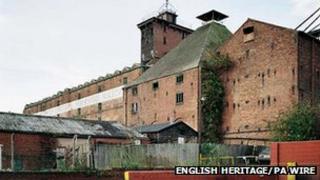 A fresh bid for £11.7m of lottery money has been submitted to redevelop an 18th Century Shropshire mill.
Ditherington Flax Mill in Shrewsbury, which was built in 1797, has been described by English Heritage as "at risk" due to neglect and decay.
Shropshire Council, Friends of the Flaxmill Maltings and English Heritage made the Heritage Lottery bid after one for £12.7m was rejected in 2010.
The Friends group said it hoped to hear a final decision late next year.
Under the plans, three of the main historic buildings would be developed - the Main Mill from 1797, the Kiln from the late-19th Century and the Dye and Stove House.
The lower two floors of the Main Mill, which would be open to the public, would include the history of the buildings as well as community rooms and cafes under the proposals.
Plans for three other floors include having offices.
Friends chairman Alan Mosley said those involved in the project were "not looking to develop it as just a museum, but as a living, working, leisure facility and a community facility".
He added: "One thing that is different now that didn't exist in the first bid is the enormous amount of public interest that the Friends and others have been able to develop around the project."
He said two open weekends had attracted more than 3,000 people to the mill.
'Too much'
Richard Lawrence, who is leading the project for Shropshire Council, said it "only narrowly missed out" with the previous bid.
He added: "I think before we were trying to go and do the whole site.
"We realise that's just too much now with the current market.
"We're at the stage now where if we don't do something with these buildings, they will be in terminal decline."
Mr Mosley said the result of the stage one bid was set to be known in April and the bid would then be developed further over 12 to 18 months, ahead of the final decision at stage two.