Former Olympians run 60-mile relay for Much Wenlock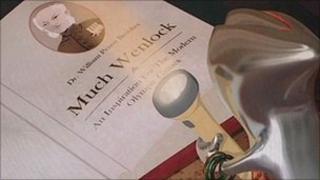 Two Olympic medallists have set off from Shropshire on a 60-mile run to salute the start of the Olympic year.
Robbie Brightwell, who grew up in Telford, won a silver medal at the Tokyo Olympics in 1964, where his wife, Ann Packer, won gold in the 800 metres.
Mr Brightwell organised the relay from Much Wenlock to celebrate its role in the development of the Olympic games.
The small town is credited as the birthplace of the modern Olympics.
The relay features 16 runners and will finish in the couple's home town of Congleton in south Cheshire. It is expected to take about eight hours to complete.
Olympic mascot
Mr Brightwell said: "Having the Olympics held in our country is probably a once in a lifetime experience and we are determined to celebrate it in style.
"We salute Much Wenlock for holding Games since 1850 and thought this 60 mile endurance run would embody the spirit, challenge and camaraderie of the Olympic Games and was a great way to kick-start the town's Olympic year."
Robbie Brightwell won a silver medal in the 4x400m relay in Tokyo in 1964. In the same games, Ms Packer became Britain's first female Olympic track gold medallist.
The couple's sporting ability was obviously passed on to their children. Their sons, Ian and David Brightwell, are both former Premier League footballers with Manchester City.
The mascot for the 2012 Olympic Games is named Wenlock.