Hercules C130K displayed at RAF Cosford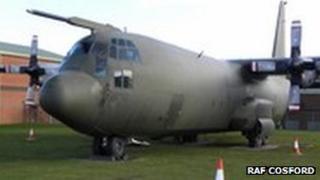 A Hercules C130K Mark 3 plane has gone on display at RAF Cosford Museum in Shropshire for the Christmas holidays.
The aircraft was designed to take off and land on makeshift runways and to transport paratroopers long distances.
It was made by Lockheed in the 1960s and took 15 people three hours to get into position at the airfield.
The museum is inviting anyone with memories of seeing or flying in the Hercules to get in touch to offer visitors their stories of the plane.
Hercules aircraft are still in operation and are the largest and heaviest planes able to land on aircraft carriers.
RAF Cosford Museum curator Al McLean said: "We are very pleased to have this iconic aircraft, particularly as it has such a long record of service with the Royal Air Force and it makes a fine addition to the Cosford site."