Charity The Kip Project reports homelessness increase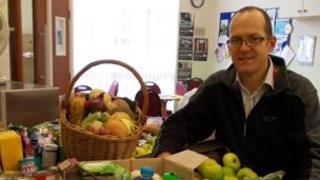 A Telford homeless charity has reported a 55% increase in the number of people needing help in the past 12 months.
The Kip Project, run by the Salvation Army in Wellington, said the main cause of homelessness in the area was relationship breakdown.
Steve Watkins said the charity was working with about 45 people, although it varied on a daily basis.
He added that the charity hoped to offer accommodation to anyone who needed it over Christmas.
"If there's a danger of someone sleeping rough, we'll do everything we can to get them off the streets," Mr Watkins said.
"Our target is no second night out."
Relationship breakdown
The charity said it had helped more than 1,400 people since its launch in 2004.
It supplies quarterly figures to Telford and Wrekin Council and said during the same period in 2010 it had registered just 29 people, compared with 45 this year.
The Kip Project runs a drop-in centre three times a week on Tan Bank, but Mr Watkins said that if he was in the office, the charity's door is "generally open".
He added that the causes of homelessness ranged from mental health issues to job loss, as well as drug and alcohol problems.
However, he said about 65% of people cited relationship breakdown as the primary reason for being homeless.