Hopton Castle in Shropshire reopened after restoration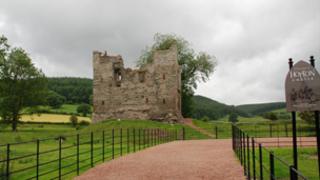 A Grade I-listed Shropshire castle which has been restored at a cost of £1m is being officially reopened by the Duke of Gloucester.
Hopton Castle near Craven Arms has been a ruin since it was damaged in the Civil War and abandoned.
The Hopton Castle Preservation Trust, formed in 2006, bought the ruined building from a private landowner.
The restoration has included work on a bridge and constructing steps up to the main castle.
English Heritage gave the trust permission to rebuild two arches, one which leads to a spiral staircase.
The castle achieved notoriety in 1644 after Prince Rupert laid siege to its occupants, soldiers of the Parliamentary forces.
They held out for three weeks but when they surrendered, they were all killed and their bodies thrown into a muddy ditch.
Many local people believe the castle to be haunted by the ghosts of the soldiers.