Public sector strikes 'biggest ever' in Shropshire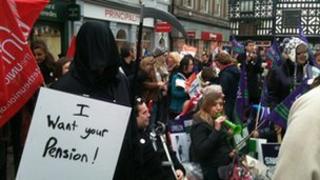 Hundreds of public sector workers have attended rallies in Shropshire as part of a one-day strike over pensions.
More than 300 gathered in Donnington and almost the same number attended a rally in Shrewsbury's market square.
The one-day national stoppage has affected schools, council services and health services.
Government ministers said the public sector will continue to enjoy generous pensions and change is needed because people are living longer.
Campaign group Shropshire Fights Back said the public sector walk-out was the largest ever to affect the county.
The group, set up to oppose public service cuts, includes members from a wide range of unions.
Chairman Steve Bradfield said the pension plans and public sector pay cuts were "unfair and unnecessary".
Almost 180 out of 229 (78%) of primary and secondary schools in Shropshire and Telford and Wrekin are closed or partially closed due to strike action.
Alan James, Unison branch secretary for Shropshire, said: "From our point of view, we've never seen this level of support for a strike before in Shropshire across local government.
"Shropshire Council has been in dispute with workers for the past six months over changes to their terms and conditions. There was a strike on 22 September which got about a 30% turnout.
"Today's strike over pensions has seen a 50% turnout in local government which shows the strength of feeling there is about this."
Ministers argue the cost of public sector pensions to the taxpayer has already gone up by a third.
Hospital picket lines
The reforms include greater contributions from public sector staff, as well as working for longer.
"We don't think these measures are the right way forward," Mr Bradfield, who works as a lecturer, said.
Community health workers and those based at the county's two main hospitals have also joined the industrial action.
Paramedics, occupational therapists, radiographers, physiotherapists, healthcare assistants, administrative and support staff have joined picket lines at the Royal Shrewsbury Hospital and Telford's Princess Royal Hospital.
Shrewsbury and Telford Hospitals NHS Trust said 53 planned surgeries and 1,500 outpatient appointments had been cancelled across the county.
The Royal College of Nursing and the Royal College of Midwives have not balloted their members, but some nurses who are part of the Unison trade union have joined the strikes.
Adam Cairns, chief executive of the Shrewsbury and Telford Hospitals NHS Trust, said the strikes should not affect the hospitals' ability to deal with the most urgent cases.
Around 50 people joined a picket line at the MoD base at Donnington in Telford.
Some council services, including Sure Start sessions and adult day centres, have also been closed.
Many libraries and customer service points across the county are normally closed on Wednesdays and are not affected by the action.
Telford and Wrekin Council said it would operate a normal refuse collection on Wednesday.
Mr Bradfield said many public sector workers had already seen their pay frozen or cut and that pension plans amounted to a further pay cut.