Wakeman School to close in 75th anniversary year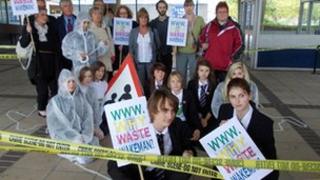 A Shropshire school will close in its 75th anniversary year after losing its fight to stay open.
The Wakeman School, in Shrewsbury, was earmarked for closure, in 2013, by Shropshire council as part of wider changes to education provision.
The school's governors had appealed to the School's Adjudicator to halt the plans but lost their appeal.
Head teacher Karen Moore said it was "ironic" the school would close in the year they would celebrate 75 years.
She said: "We've been very disappointed but we're overwhelmed by the support given to the school.
"It's very sad that wasn't taken into account. We feel they [the council's] been determined to close the school from the start."
'Difficult time'
The adjudicator upheld the council's decision because of low pupil numbers.
The town centre school has only 240 pupils on its roll this academic year, out of a capacity of 675.
The school has also decided not to pursue free school or academy status after failing to get financial support.
David Taylor, the council's director of people's services, said it was the "right decision" for the future of education in Shropshire.
He said: "The adjudicator has recognised that there is no viable, long term alternative to the proposal.
"We appreciate that this is a difficult time for everyone and will continue to work closely with the school, pupils, parents and the wider community to support them at every step."